Holy Week marks the journey of Jesus and his community of changemakers…as they bring their project of peace to Jerusalem and invite the city to wholeness, justice and new communion.
For the church, Holy Week suggests a shared experience of lovingkindness, prayer and discernment. We celebrate God's vision of inclusion and justice on

PALM SUNDAY

. We recommit to hands-on service and partnership on

MAUNDY THURSDAY

. And we bear witness to God's passion, and Jesus' suffering among us on

GOOD FRIDAY

.
This pligrimage leads us, together, to the riverside on

HOLY SATURDAY

–where we remember our baptismal commitments and rejoice together in the love which death cannot deny.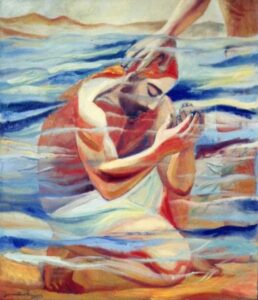 And then, with a gathering of old and young, gay and straight, bashful and bold–we gather on

EASTER SUNDAY

to praise the God whose love rises to claim us and excite us and move us forward in faith and determination!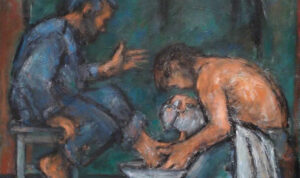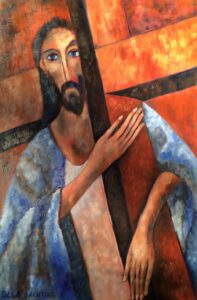 7:00 pm Way of the Cross:
Online Worship & Discussion
From the thrill of palms, to the sudden surprise at the table…we follow the community to the cross…where we encounter Jesus and the brokenness of the world.
In our online discussion, we'll explore the varied ways we've met suffering over the past year: in illness, in activism, in political struggle and in family and personal life. How do we keep watch at the cross together? How do we stay awake in the midst of our shared struggle?

Where is God?
We'll be led in discussion by church friends whose particular work this year has protested the mistreatment of immigrant friends and kept vigil with those suffering in a unjust system.
4:00 pm Community Celebration:
Renewing Baptismal Commitments
On Saturday, this lovely community of sisters, brothers and siblings — committed to the way of the palms, and the way of the table, and the way of the cross —

gathers by the riverside

at Jackson's Landing in Durham.
There, with a sprinkling of salty river water, we celebrate our 'raw, ragged, open' faith, and renew our commitments to the path of faith and the lovingkindness of Jesus. Some will step into the river. Others will choose a simpler 'sprinkling.' Others will watch and cheer.
Click the GREEN LINK to sign up and let us know you're interested!
TWO EASTER WORSHIP CELEBRATIONS:
on the lawn at the Church Hill Field
Join a multigenerational community of friends at either service, as we celebrate the Good News of Resurrection and New Life together. We'll be joined by the New England Brass Quintet, and delighted to welcome new members into the circle of faith at the Community Church. And it will indeed be GOOD to be together, in the great outdoors where God's love flows freely!
Bring a lawn chair, because it'll probably be a little damp in the early hours. And bring a blanket too to keep yourselves warm and comfy as we worship, praise and celebrate in community. "

Christ is risen!

Risen indeed! Alleluia!"
We'll do our best to "livestream" both services too, on Zoom and Facebook live, as usual.