2020 Stewardship Drive: Update
When we launched this fall's Stewardship Drive

("For Our Three Great Loves")

, we had hopes and dreams…but no real sense of where we'd end up. 2020 has been a strange and difficult year for many, and we know that churches across the country are struggling with new realities. Looking at budget realities and COVID-related constraints, we set ourselves a goal of $290,000.
Your generosity has surpassed our vision, and your commitment has inspired us beyond measure. To date, we have well surpassed the goal–and

our 2021 Pledge Total is $313,000.

This means funding our many dynamic ministries. This means supporting our beloved staff. And this means the Community Church will shine its light BRIGHT in the year to come!
Many thanks, with deep gratitude to God!
Natalie Crotty and Maggie Morrison,
Stewardship Drive Chairs, 2020
In Collaboration with Dave Grishaw-Jones,
Pastor, Community Church of Durham
Every one of your pledges, every commitment, every prayer counts! When you give out of your own hopefulness, you make our bonds strong, you make our church bold, you make our ministries grow! We give thanks for every one of these pledges, and for the dear ones who give lovingly and sacrificially to make our Community Church of Durham a dynamic and faithful circle of hope!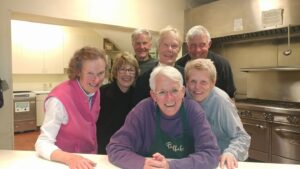 A BREAK-DOWN OF THE PLEDGE CAMPAIGN SO FAR: