WINTER 2021: "EXTRAORDINARY UNITY"
Read the Winter Guide Here:
Check this page weekly for ideas, questions and themes–as we look forward to small group conversation and discernment. "How is the Spirit working among us, a baptized people, this winter?" "What kinds of practice connect you to community, purpose and hopefulness?"
Week of March 21 to 25 (Following Worship 3/21)
HOW WE NEED ONE ANOTHER: JOHN 13
Now before the festival of the Passover, Jesus knew that his hour had come to depart from this world and go to God. Having loved his friends in the world so much, he loved them to the very end. The tempter had already put it into the heart of Judas son of Simon Iscariot to betray Jesus. And during their supper, Jesus, knowing that God has given all things into his hands, and that he had come from God and was going to God, rose from the table, took off his outer robe, and tied a towel around himself. Then he poured water into a basin and began to wash his friends' feet, and then to wipe them with the same towel, tied around his waist. When he came to Simon Peter, Peter said, "Lord, are you going to wash my feet too?" And Jesus answered, "You don't know, as yet, what I am doing; but later you will surely understand." Peter said to him, "You will never wash my feet!" Jesus answered, "Unless I wash you, even your feet, you have no share with me."
Last fall, we explored Miriam's faith, how she danced with her sisters into the Red Sea waters and partnered with God in liberating her people. We made a connection between Miriam's faith and Mary's–and celebrated the creative, bold presence of the Divine Feminine in our season of exile and disruption. We are not alone!
Now, during Holy Week, Jesus embraces Miriam's way as he celebrates the Passover with his friends. It's the night of Liberation, their traditional celebration of God's passion for human freedom, human solidarity and hope. And Jesus falls to his knees — stunning his friends — and insists that liberating practice includes tenderness, mercy and servant love.
Watch the video (above, from Jesus House in Oklahoma). In what ways do we resist, or fear, or misunderstand what Jesus is doing here? In what ways are we — even now, in Koinonia — embracing this radical path into new life?
I CANNOT UNDERSTAND MYSELF BY MYSELF
In our conversation Sunday, Sheikh Ghassan told me, "I cannot understand myself by myself." He insists — with the Qur'an itself — that God creates our many differences so that we can learn from one another, come to know one another, AND come to an understanding and reverance for our own lives.
I encourage you to re-watch from 3:19 to 7:18.
Think about this a bit. Who are the friends, the teachers, the collaborators in your own life who help you to "understand" and "revere" the heart of your own life?
Week of March 7 to 11 (Following Worship 3/7)
ANCIENT HYMN, FOLLOWERS OF JESUS
Sing the anointed Jesus,
Who had the very shape of God
But did not count it windfall
To be God's equal,
But emptied himself,
Taking shape of slave:
Becoming of human likeness
And found in human guise,
He humbled himself—
Obedient to point of death:
Yes, of the cross's death.
Therefore God has raised him high,
Conferred on him the name
That's higher than every name,
So at the name of Jesus
Every knee must bend:
Heavenly and earthly and infernal all,
And every tongue must loudly own
The Lord is Jesus Christ
To the glory of God the All-Loving.
(Fragment in Philippians 2)
These two pieces of sacred art invite new reflection, deep reflection on the ancient hymn. What might it mean for us that Jesus "empties himself, taking shape of slave…"? Who is this teacher, this Lord, and where are we to find him now? What does humility mean in Jesus, or obedience for that matter?
And then, his rising? Or better yet, his "uprising"?
In the 13th century fresco, Jesus' resurrection is hardly a dainty "lift off"–as if he simply ascends to some better place, some less conflicted and complicated place. Instead, Jesus "uprising" involves him in lifting Adam and Eve (and all humankind) out of the chaos of warfare, torture and slavery–into newness of life, freedom from oppression and abundant community and communion.

The Jesus whose body cradles the slave ship is the same Jesus who will rise up, who will lift the human community up, who will trample the instruments of torture and violence.
What does that mean to us? As we look to Holy Week now, as we anticipate renewing our baptismal commitments–to God, to Jesus, and (importantly) to one another, how does our own baptismal vow join us to Jesus' self-emptying practice, his humility-in-service, AND his bold, brave confrontation with injustice and despair?
Week of February 7 to 10 (Following Worship 2/7)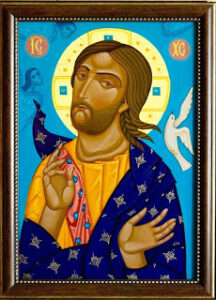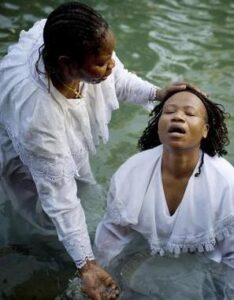 EXILE, RETURN AND Covenant
We've been talking about 2020/2021 as a season of great disruption, an "exile" of sorts. And we've been wondering if our own exile–like those in the ancient world–creates space for spiritual renewal and discernment, even a "raw, ragged openness."
In the biblical collection, the exiled people are invited home in due time, but it's not the same home. The path forward is transformed by their experience, and they are meant to discern and create that path with God.
Writing on the biblical literature of exile and return, Walter Brueggemann notes that the new way home was shaped and inspired by Israel's ancient covenant. It was that covenant–rooted in God's love and faithfulness, committed to justice and mercy–that would

reveal the community's path

and fuel their many energies for the difficult challenge ahead. Their spiritual work involved remembering the covenant, renewing it in their hearts and liturgies, and dedicating their shared energies to its fulfillment.
MATTHEW'S GOSPEL AND the COVENANT WAY
In worship these last two weeks, we've read two texts from the Gospel of Matthew. That text was assembled, collected and written in Antioch, after the Roman pillaging of Jerusalem and burning of the temple in 70 ce. God's people fled for other places, fearing for the survival of their culture and teachings. And in Antioch, they wrestled with which way to turn, where to focus energies, and how to rebuild their life together.
We read both passages (Matthew 25:31-46 and Matthew 5:38-48) in this context then. What is Jesus saying about the covenant that binds and animates the church? What is Jesus teaching about the paths and practices that lead a people through destruction (or exile) and into new patterns of faithfulness? What kind of

beloved community

does Matthew 25 imagine? What kind of daily practice, what kind of community practice does Matthew 5 inspire? How does that practice bear witness to

a spiritually revitalized

promise?
Notice that Jesus isn't making this up out of thin air. He's deeply rooted in Jewish tradition and Hebrew practice. Walter Brueggemann points, for example, to a pair of "triads" that define and animate Israel's faith and ethic. These appear again and again in the poetry of Israel's prophets. In the first, the covenant itself is articulated around mercy, justice and worship.

In these Israel knows God, communes with God and returns to God.

Around the first triad, Israel's return from exile takes shape. The new life God intends for the people will flesh out the new implications of mercy, justice and worship for a people in disarray, a people disrupted in every way by history and crisis. First the people remember; then they move forward.
COVENANT, PARTNERSHIP AND DISCERNMENT
In the second triad, the covenant is extended the

widows, orphans and immigrants

. It's a very particular triad; and the covenant includes them in every way. This is in no way optional, but follows from the very nature and "yearning" of this particular God. This God, Israel's God, is especially committed, particularly engaged with victims of violence and war (widows), the vulnerable young (orphans), and refugees seeking asylum and protection (immigrants).
To worship this God, and to covenant with this God, is necessarily to join in covenant and partnership with these community members and friends. As prophets like Jeremiah and Isaiah begin to imagine Israel's return, the new arrangements of that new life, they invoke both triads and invite fresh imagination and heartfelt devotion. In a very deliberate way, Jesus does the same in the Gospel of Matthew–for another community in exile, in another generation, in another place.
Into this we are baptized: into a covenant practice that shapes discernment; into a particular community that includes widows, orphans and immigrants; into a "raw, ragged openness" that entertains new visions and possibilities.
I'd like to imagine a festive 'baptismal celebration' on Holy Saturday–the day just before Easter. Maybe we find a sweet riverside for this celebration (my favorite)…or maybe we just do it with a big bowl of water in the Peace Garden at church.
What if Lent became a season of discernment and prayer, through which we prepared for

a renewal of baptismal energies

, a rebirth of the covenant spirit of faith? Would this prepare us, somehow, for the new moment ahead, for new patterns as we emerge from our own season of disruption and exile? What would that look like?
Week of January 24 to 28 (Following Worship 1/24)
THIS BAPTISMAL PATH, 2021
We're imagining baptism not simply as a personal choice, or a private moment of connection with God's Spirit. We're imagining baptism as Jesus and his movement might have experienced it: as a joyous joining to the community animated by Jesus' teachings, Jesus' commitments and Jesus' resurrecting spirit.
"For Christ is our peace; in his body he makes all peoples one and breaks down the many

dividing walls

, that is, the

hostilities

between us." (Ephesians 2)
In Dave's homily today, he said: "To be baptized into this movement is to initiated, immersed, in the

wonder and promise of God's 'extraordinary unity

.'" William Stringfellow put this 'initiation' in its biblical context: "Racism is the power with which Jesus Christ was confronted and which, at great and sufficient cost, he overcame. In other words, the issue here is not equality among human beings, but unity among human beings."
What might that mean–for you personally, and for the church collectively? What does 'extraordinary unity' look like

in a human life

, or in a human community? Dave said today that this kind of unity doesn't mean uniformity, not at all–but a kind of commitment to communion, a practice that delights in our diversity and makes gracious space for difference. Even struggles with it. Struggles to bring communion into our experiences of difference and separation.
FALL 2020: "Raw, Ragged Openness"
FALL 2020: "Raw, Ragged Openness"