WINTER 2021: "EXTRAORDINARY UNITY"
Read the Winter Guide Here:
Check this page weekly for ideas, questions and themes–as we look forward to small group conversation and discernment. "How is the Spirit working among us, a baptized people, this winter?" "What kinds of practice connect you to community, purpose and hopefulness?"
Week of January 17 to 21 (Following Worship 1/17)
THIS BAPTISMAL PATH, 2021
We're imagining baptism not simply as a personal choice, or a private moment of connection with God's Spirit. We're imagining baptism as Jesus and his movement might have experienced it: as a joyous joining to the community animated by Jesus' teachings, Jesus' commitments and Jesus' resurrecting spirit.
Malcolm Guite's poem (which is included in

Extraordinary Unity

) puts it this way: "Again he draws from death the sons and daughters / For whom he bid the elements combine…"
In Mark's story, the baptismal story is the beginning of beginnings (there is no birth narrative in Mark). Mark begins where Jesus' Hebrew ancestors began: in the waters "troubled" by God's grace, in the sea that promises liberation and freedom. Remember Miriam (Exodus 15)? Wading into the waters with her sisters, with her tambourine, with God's passion for newness and righteousness? Is it possible that Jesus is "re-enacting" Miriam's dance, and demonstrating his joyful commitment to that same journey, that same community, that same faith?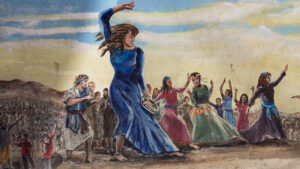 HOW DOES JESUS' BAPTISM (AND MIRIAM'S DANCE) SUGGEST A WAY FORWARD FOR US, FOR THE CHURCH IN A SEASON OF POLITICAL UNREST AND PANDEMIC?
Reflect a bit on the two pictures here: Miriaqm leading her sisters into the Red Sea, and Jesus embracing the baptism of the Spirit in the Jordan. Sit with the enmergy of each (quite different perhaps, but somehow connected?)…Where are you touched? What hopes and desires are awakened? What kind of "koinonia" is suggested by the "baptismal path"?
FALL 2020: "Raw, Ragged Openness"
FALL 2020: "Raw, Ragged Openness"