MAY 1 to 15 AT THE CHURCH
Founded by Archbishop Tutu and others, the Forgiveness Project centers the remarkable stories of global neighbors who embrace compassion in the face of violence and atrocity.
This May, we welcome to the Community Church an extraordinary exhibit of these stories, featuring bold practioners of mercy and justice.
Our schedule includes the screening of a new movie ("All of Us") and an international panel (gathered by ZOOM)–bringing to us several of those whose stories are featured in the exhibit itself.
WE ARE BELOVED: LEAN INTO IT!
There are so many ways to connect, and so many avenues to spiritual growth and service here! We cherish the arts and we delight in one another's company. We welcome thinkers and dreamers from all walks of life–who share with us their unique visions and hopes. Know that you–wherever you are on life's journey–are always welcome here!
Wondering what you might expect? Here's one of our services–from February 20–to give you a flavor of how we worship, what moves us and where we're going as a people of faith!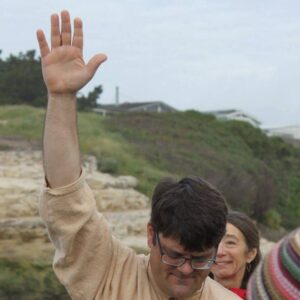 If you've found the site today, I imagine that you're curious about spiritual community–and what it offers us, here and now, in

today's world

of wonder and uncertainty.
Look around. Explore our values,

our vision

, our programs. And know that your curiosity itself is a God-gift: a gift to be treasured, pursued and enjoyed. I hope you'll check out a service, a program, a class we're offering. The best way to know what we believe is to see how we do what we do!
Church isn't just a building: it's a movement. As the Community Church of Durham, we're creating a movement of many generations, many voices and many gifted souls. It's a lot of fun, it's a circle of wonder; and

it's a movement

for the blessing of all life.
If you've got any questions, I'm always eager to talk! Wherever you are on life's journey, you're welcome among us at the Community Church.
Dave Grishaw-Jones, Pastor