Peacemaking & Nonviolence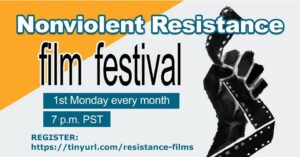 Join us every first Monday of the month at 10 p.m. Eastern for a screening and discussion of a documentary about movements exemplifying nonviolent resistance and direct action,
Register below to receive a monthly email with the zoom link and discussion questions.
11/2/20 – "How to Start a Revolution"
BAFTA award-winning film about the work of three-time Nobel Peace Prize Nominee Gene Sharp. As waves of revolutionary spirit sweep the world, his ideas continue to inspire, mobilize, and unite protestors, giving them the tools to topple authoritarian regimes. Quiet, unassuming, and softly spoken, he was celebrated by revolutionaries and feared by dictators.
12/7/20 – "Bringing Down a Dictator"
Film by Steve York about the nonviolent defeat of Serbian leader Slobodan Milosevic. It focuses on the contributions of the student-led Otpor! movement. Originally aired on national PBS in March 2002, it was narrated by Martin Sheen and won the Peabody Award.
1/4/21 – "The Singing Revolution"
The name for events between 1987 and 1991 leading to the return of independence to Estonia, Latvia, and Lithuania from the former Soviet Union.
2/1/21 – "Orange Revolution"
Chronicles Ukraine's 2004 presidential campaign, from one candidate's poisoning to the intimidation of voters, acid-bombing of ballot boxes, and the political pressure put on election officials to count votes a certain way, bringing nearly a million citizens into the streets for a 17-day around-the-clock protest.
3/1/21 – "Budrus"
Ayed Morrar, an unlikely community organizer, unites Palestinian political factions and Israelis to save his village from destruction by Israel's Separation Barrier. Victory seems lost until his 15-year-old daughter, Iltezam, launches a women's contingent that quickly moves to the front lines.