We are committed to a lively and courageous ministry in seasons of gladness, and in seasons of despair. We're also committed to public health, thoughtful scientific review and reflection, and a God who works in us and through us in all these ways.
For these reasons, we'll continue to worship online this fall, at least through October and into November. It's not the same as being together — and we are very, very aware of this — but we're doing our best (with God's grace) to inspire one another and celebrate in word and sacrament.
There a few ways to connect with us on Sunday mornings. The button above will link you to our Zoom webinar — which gets you into worship Sunday at 10 am. The column to the left will link you to our Facebook page — which connects you to the same service via Facebook Live.
If you like, we often gather for informal conversation, following worship. It's a program we call "Walking the Talk." You're welcome to use the button below to connect to that smaller gathering. We're usually getting started around 11 am.
Give us a call (603-868-1230) if you have any trouble finding us online on Sunday mornings! We want to make it easy for you to connect with a community of energy, hope and love!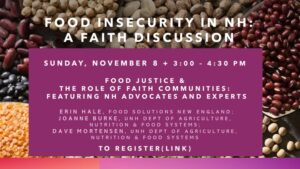 Food Justice: A Faith Discussion
Sunday Afternoon, November 8
We're gathering a new ministry team to imagine new initiatives in "food justice"–linking activists, food ministries and UNH visionaries committed to equity, abundance and wholeness for all NH neighbors and friends. Join us for a kick-off conversation, as we're joined by Erin Hale, Joanne Burke and Dave Mortensen of UNH, with Maggie Morrison hosting. Let's dream big and act bold! Register Here.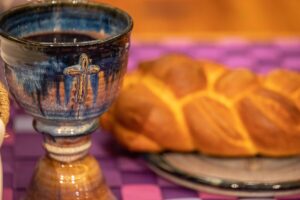 Walk-Up/Drive-By Communion
Sunday Morning, November 1
11:15 am to 12:00 noon, Front Steps at Church
After our online service, walk over to church (or drive, if you want) and you'll find Pastor Dave on the front steps–serving communion. We've got safely pre-packaged sets (with juice and wafer, pre-wrapped). It's a new way to share an old practice, and to discover a new that ties that bind us to Christ and one another. All are welcome! Seekers, dreamers, believers, all!