We're committed to faith with heart, to action with purpose and to the most diverse expression of Christian community. Join us this spring–or any time of year–as we gather each Sunday at 10 am for worship and celebration.
There are no barriers to participation among us–and we look forward to meeting you and welcoming you into the circle of energy and blessing.
You are a blessing to us!
This Spring at Community Church
"Troubled Minds in Troubling Times:
Coping with Global Anxiety"
Tuesday, May 24 from 6 – 8 PM
Dave Grishaw-Jones moderates a conversation with Rabba Kaya Stern-Kaufman (Temple Israel, Portsmouth), Professor Paul McNamara (UNH Philosophy Department), Alexandra Shaker, PhD (author and clinical psychologist) and John Mince, PhD (marriage and family therapist). How might we live hopefully and compassionately in this difficult time? Masks required.
Online Communities & Learning
All kinds of opportunities for connecting, growing, praying and engaging with a world-wide community of allies and friends.
Weekly Prayer for Palestine/Israel
Ten Minutes of Prayer & Compassion
This international community comes together weekly, for a simple ten minutes: to pray for peace, community and compassion in the Holy Land. You're welcome to join them, adding your intentions and prayer to the global circle…CONNECT HERE.
The F-Word Exhibition, organized by the Forgiveness Project, is a thought-provoking collection of personal stories and human testimony–on display at the Community Church from May 1 to May 15, 2022.
The Exhibition brings together inspiring personal stories and invites reflection and initiative–in the face of injustice, tragedy and atrocity. As part of the Forgiveness Project, its founding patrons included Archbishop Desmond Tutu and Dame Anita Roddick.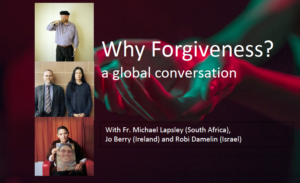 Sunday, May 15 at 1 pm (Durham Time)
This global conversation includes Robi Damelin (Israel/Palestine), Jo Berry (Ireland) and Fr. Michael Lapsley SSM (South Africa)–exploring the practice and promise of forgiveness in the face of violence, division and atrocity. From New Hampshire, Dave Grishaw-Jones and Andrea LeBlanck facilitate this urgent discussion as part of the two week F-Word Exhibition in Durham.