We're committed to faith with heart, to action with purpose and to the most diverse expression of Christian community. Join us during Advent–or any time of year–as we gather each Sunday at 10 am for worship and celebration.
There are no barriers to participation among us–and we look forward to meeting you and welcoming you into the circle of energy and blessing.
You are a blessing to us!
Online Communities & Learning
All kinds of opportunities for connecting, growing, praying and engaging with a world-wide community of allies and friends.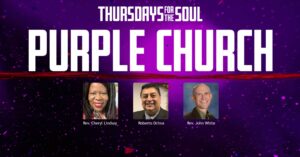 Thurs,
Dec. 2, 3:30 – 4:30 Eastern
The United Church of Christ includes people with a wide spectrum of theological beliefs and political alignment. People who choose to be in a church that holds difference of opinion often do so with a few different strategies…REGISTER HERE.
Weekly Prayer for Palestine/Israel
Ten Minutes of Prayer & Compassion
This international community comes together weekly, for a simple ten minutes: to pray for peace, community and compassion in the Holy Land. You're welcome to join them, adding your intentions and prayer to the global circle…CONNECT HERE.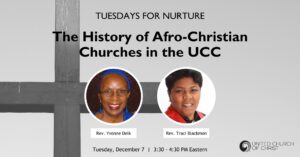 History of Afro-Christian Churches
Tues, Dec. 7, 3:30 Eastern
In 1957, when the Evangelical and Reformed Church and the Congregational and Christian Churches formed the UCC, there was a 5th stream that fed into our formation, the Afro-Christian Church. While it maintained a Chrisitan identity, it was independent and separate organizational structure comprised of the Afro Christian Convention, five conferences, 150 churches, 25,000 members, 185 ordained ministers, and licentiates. Join us as we hear of this rich legacy from Dr. Yvonne Delk, a daughter of the Afro-Christian tradition and spiritual leader in our midst…REGISTER HERE.
Sunday, December 19 at 4 pm
With Joyce Andersen & Harvey Reid
Friday, December 24 at 4 pm (A Family Christmas with Procession)
Friday, December 24 at 9 pm (A Candlelight Christmas for All)