We're committed to faith with heart, to action with purpose and to the most diverse expression of Christian community. Join us this spring–or any time of year–as we gather each Sunday at 10 am and 12 noon for worship and celebration.
There are no barriers to participation among us–and we look forward to meeting you and welcoming you into the circle of energy and blessing.
You are a blessing to us!
This Spring at Community Church
All Day, Saturday, May 20
Dave and Kate Grishaw-Jones host this day-long community practice of stillness, silence and contemplative life. The entire church is set aside for this day of stillness–come at 9 am, stay through dinner–and we lean into an experieence of the Spirit's gentle and surprising guidance. Together. Dave and Kate are preparing both lunch and dinner, so all you do is show up. Friends and seekers from across the region are welcome! See much more and be sure to REGISTER HERE.
Learn about the Camino de Santiago
Sunday, June 11, beginning at 6 pm
Pam White and Barry Timmerman (Dharmasukta, his ordained Buddhist name) recently walked one of the three great pilgrimages, The Camino de Santiago. They welcome you to a special evening of sharing. Barry and Pam are an interfaith couple, who have learned to look for the commonalities in their respective faith journeys. One, an ordained Buddhist, and the other, a Christian of abiding and evolving faith, undertook the challenge of the 500 mile pilgrimage last fall. Join them for a festive potluck Sunday, June 11, beginning at 6 pm in the Fellowship Hall! If you're coming, check out the Sign Up Genius—and help us plan for a wonderful potluck supper together.
SOGGY PO BOYS: BENEFIT CONCERT FOR
IMMIGRANT ADVOCACY & SUPPORT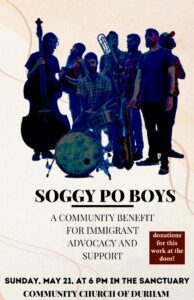 The "Boys" bring their unique and beloved New Orleans sound to Durham–and it's to benefit the church's dynamic ministry of advocacy and support for immigrants in New Hampshire. No charge at the door, and no one turned away! But donations will be gratefully received for this critical and hopeful effort!