"Dear America, is this what you really want? Do you even know what is happening in your name?"
Immigrant Housing & Accomopaniment
We believe in solidarity and compassion, in all the ways Jesus invites courage and kindness in practical ministries and efforts. As a congregation, we're partnering with the Seacoast Interfaith Sanctuary Coalition and the UCC's own Immigrant and Refugee Support Group to support immigrants detained (and harrassed) by ICE in New Hampshire and beyond. Their journey to freedom and safety is OUR journey to freedom and safety. That's what discipleship means to us.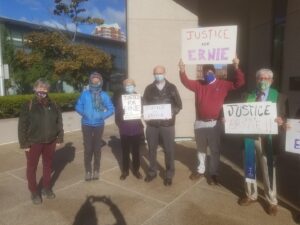 Strategy & Solidarity: Ernie's Team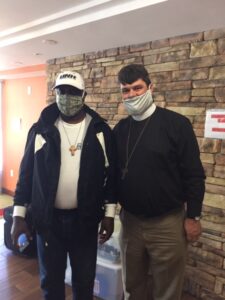 In the early weeks of the COVID-19 pandemic, as the ACLU advocated for the release of detainees in the Dover, NH jail, the Community Church stepped up and offered sanctuary to any released by a federal judge.
A federal judge in Concord found that Ernie of Cameroon was in danger, if he remained in a crowded detention facility; and she released him on the condition that we care for him.
Since Mothers Day weekend, Ernie has been a deeply respected, and lovingly protected, member of our church community. While his journey to freedom is by no means secure–and his case is still being waged in the courts–his witness to God's passion for justice has changed us all.
We need a large team of faith leaders and witnesses. For more about ways you can support us in offering sanctuary and protection to Ernie, email Jon Bromley.
Deportation & Cameroonian Violence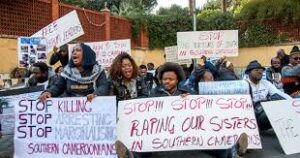 Be the Change: Taking Action
We wonder: "What can we do? What can one person do?" First, you can take action! See the 'action alerts' (link here to the left) and use the energy and time you have to do something. Write a letter. Sign on to a campaign. Make your voice heard. Second, join us. We are stronger and wiser in community, as we collaborate and strategize in action together. Be in touch with us at the church and let us know you're ready to join the tea. Whatever your religioius background, whatever your theological bent, we'll put you to work!