We're committed to faith with heart, to action with purpose and to the most diverse expression of Christian community. Join us this spring–or any time of year–as we gather each Sunday at 10 am and 12 noon for worship and celebration.
There are no barriers to participation among us–and we look forward to meeting you and welcoming you into the circle of energy and blessing.
You are a blessing to us!
This Fall at Community Church
What the Apartheid Free Movement Means
Sundays, October 8 and 15
"The Ocean Refuses No River":
in Conversation with Pastor Dave
10 am and 12 pm in Worship
Halloween Eerie and Queerie
In Partnership with Seacoast Outright
BOBBY JO VALENTINE IN CONCERT:
CELEBRATING THE OPEN & AFFIRMING MOVEMENT
Sunday, October 22 at 6 pm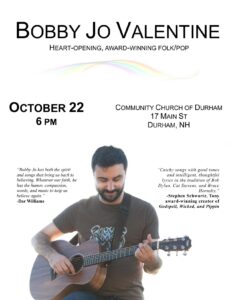 No tickets needed! No charge at all! Bobby Jo Valentine brings a unique voice and story to Durham–sharing his heart-opening music and his joyful celebration of the UCC's OPEN & AFFIRMING spirit! We are gay, straight, queer, nonbinary, all-gender-affirming and excited to welcome all into God's circle of grace and light!