SPRING 2023: "MARK'S GOSPEL AND US"
This Spring, we're putting together another set of Koinonia groups, at different points during the week. We welcome you to sign on for one–as we continue to explore

MARK'S GOSPEL: IN THE SHADOW OF THE CROSS

and what it says about the beloved community we're building in Durham. Use the button to the right here to find the registration link!
Check this page weekly for ideas, questions and themes–as we look forward to small group conversation and discernment. "How is the Spirit working among us, evoking new dreams, expressing deeper desire, this fall?" "What kinds of practice connect you to community, purpose and hopefulness?"
Examples of Last Year's Conversation:
The Cross and the Lynching Tree
This week we anticipate Holy Week in Durham, and the arrival of the Sacred Ally Quilt Ministry here. What does the cross mean to us, in 2022, in America, in the Christian tradition? How does the cross invite a reckoning with racism and white supremacy in our communities and institutions?
In Koinonia conversations this week, we reflect–in conversation, prayer and community–on Jesus' journey to Jerusalem, and the cost and joy of discipleship in beloved community. We'll explore that journey in the Gospel text. And we'll connect it to the short clip of Dr. James Cone here: "The Cross and the Lynching Tree."
In many ways, the Sacred Ally Quilts call us to that cross, to weep there, to be unsettled there, to hear Jesus' call to witness there. We look forward to doing that spiritual work together, in community, in the church, in the Koinonia settings we've loved into being.
Honoring the Earth, Our Body
Bill McKibben speaks on Saturday, February 27, at 4 pm, at North Church in Portsmouth. You'll find more about his event HERE. Bill's a Sunday School teacher, a powerful advocate for eco-justice and bio-communion, and a great speaker! You're invited to join Pastor Dave and many others at the event.
In his book, "Deep Economy," Bill writes:
"For most of human history, the two birds More and Better roosted on the same branch. You could toss one stone and hope to hit them both. That's why the centuries since Adam Smith have been devoted to the dogged pursuit of maximum economic production. The idea that individuals, pursuing their own individual interests in a market society, make one another richer and the idea that increasing efficiency, usually by increasing scale, is the key to increasing wealth has indisputably produced More. It has built the unprecedented prosperity and ease that distinguish the lives of most of the people reading this book. It is no wonder and no accident that they dominate our politics, our outlook, even our personalities.
"But the distinguishing featuire of our moment is this: Better has flown a few trees over to make her nest. That changes everything. Now, if you've got the stone of your own life, or your own society, gripped in your hand, you have to choose between them, It's More or Better."
THE SACRED WAY: ISAIAH 35:1-10
As we explore all that it means to "honor our body/bodies," we turn our expand our conversation to imagine the Good Earth, the Planet, even our own "Turtle Island" as body. How does a spiritual practice–in a place like ours–incorporate joyful, loving and passionate care for place, for watershed, for the earth itself? In the biblical tradition, or at least its prophetic schools, honoring the earth is the 'sacred way' to human justice and wholeness. Without it, we're bereft and famished.
"The parched ground will become a marsh
and the thirsty land springs of water;
the lairs where the jackals used to live
will become plots of reed and papyrus.
"And through it will run a road for them
and a highway which will be called
In our Koinonia circles this month, we'll read Isaiah 35 together, and reflect on our weariness and how it is God is inviting us to gladness, living waters and ecological renewal.
You might enjoy "Liquid Spirit"–a spirit song by Gregory Porter (captured in the left column). How does God's spirit soften the hard edges of our lives, out faith–so that the new life, new vision and new practice can refresh and revitalize not only our souls, but the soul of the Planet herself?
Here you'll see a Winter's Map to our Koinonia experience at the Community Church:
Over the past year, we've explored spiritual practices at the heart of Christian community and friendship: prayer, discernment and service. This winter, we add in three others: honoring the body, keeping the Sabbath, and household/community economics.
We begin with "Honoring the Body." You'll find a short chapter by the same name, written by Stephanie Paulsell, here: CHAPTER ON HONORING THE BODY.
In our first conversation, we'll look at two of the Gospel stories Stephanie lifts up in her chapter: the anointing of Jesus in Luke 7 and the washing of feet in John 13. How do these stories move you…or unsettle you? How is honoring the body not simply a private practice, but a community one?
In addition, you might check out Pastor Dave's testimony before a House Committee in Concord this week. He argues for communities of care and protection, that honor choice and integrity.
DISCIPLESHIP: BEARING THE JUBILEE VISION TOGETHER
As you anticipate our first Koinonia gathering of 2022, reflect a bit on where you've been since mid-December. The Omicron variant has tested us all, and perhaps your own holiday plans have been disrupted. What kind of Christmas have you experienced this year? Any particular joys, epiphanies, questions rising from all that?
Within the church community, many have been hard at work preparing the church apartment for Antony's arrival. And this practice–hospitality, compassion, advocacy–has connected us to some of the deepest themes of the Christmas season. For others, illness continues to test us physically and spiritually. How is it with your spirit?
This week we turn to the mature Jesus, the newly baptized Jesus, the teacher returning to his hometown to preach. In Luke 4:14-21, Jesus takes a scroll and reads from the Prophet Isaiah, calling the beloved community to jubilee–a very particular practice, embodying a stunning social alternative in a world of dispossession and despair. "The Spirit of our God is upon me, because the Most High has anointed me to bring good news to the poor. God has sent me to proclaim release to the captives and recovery of sight to the blind…" You'll find Dave's January 23 sermon on the text here.
For another perspective on the theme, on what discipleship looks like in the jubilee tradition, you might enjoy watching to this reflection by Ched Myers of the Bartimaeus Cooperative Ministries. Ched offers some compelling insight into the Hebrew jubilee tradition/sabbath economics. And he leans into the question of practice: how we embody discipleship and jubilee TOGETHER.
Koinonia: DISCIPLESHIP AS COMMUNITY
While it's always easy to personalize or privatize the good news, and the call to discipleship, Jesus seems much more interested in how it is we nurture faith in one another, and how it is we act and celebrate and resist TOGETHER as communities of faith. Rather than judging each person's efforts, or the highs and lows of individual accomplishment, Jesus seems determined to cultivate courage that's shared, to inspire mercy that's communal. The question for Jesus isn't: "Are you saved?" The question for Jesus is: "How can we make the world whole?" And that shift changes everything–or it might. No more anxiety around saved or not saved. No more pride around wisdom and who's got it best. Just a community of Spirit loving God and one another, risking it all for mercy and justice, and watching for signs of God's emerging and transforming light.
Anticipating Worship 11/21
SERMON ON THE MOUNT: PRACTICING OPEN!
This week we explore the purpose and joy of our community's "Open and Affirming" covenant. It's a covenant that follows on our discernment around Jesus' ministry, and the Beloved Community we are called to create in our own time and place.
To the left, you'll find a 4-minute video that celebrates the United Church of Christ's long and groundbreaking commitment to inclusion and justice. We are a church of many–disciples all who seek to practice compassion and mercy in our lives, relationships and neighborhoods. And our Community Church stands in this rich and prophetic tradition!
Dave's prepared some notes for us to look at, as we anticipate our next Koinonia gatherings and conversations. How are you moved by what you read and see here? Are you challenged by this? How might we still have a ways to go–as we seek to embody our Open & Affirming spirit? What do we need from one another?
Take some time to sit with the painting here by Vermont artist Janet McKenzie. She writes: "This painting presents one figure with outstretched arms in an invitational stance–allowing the heart to be vulnerable, open. Draped with an interpretation of the pride flag, this beloved symbol has become part of the body, large and inseperable. Here the LGBTQ community is honored for choosing courageous paths to peace and justice over hate, time and again…"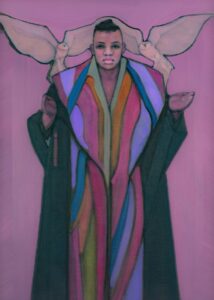 What kind of faith does this image evoke in you? And what it that faith mean to us, as a community of diversity, as the people of God? What kinds of spiritual practice might we nurture in one another, and together?
PEACE / ASSURANCE / ENDURANCE: MATTHEW 26
This week, I hope you'll listen in on Joy Ike's recent song "Assurance." I'll recommend that you listen a couple of times: first, with the words (included below) and then a second time, in a spirit of openness and prayer.
You've got a YouTube cover to the left; and you'll find a wonderful live version (from her living room in Philly) here:
I need assurance that you are here
I need assurance that you can feel what I feel
I need endurance for the day
But I got both feet on the ground
One foot in front of the other
No more runnin' for cover
One foot in front of the other
This week, we return to the story of the unnamed disciple who slips into a dinner party, uninvited, and anoints Jesus with expensive perfume. If you wish, you can re-read Dave's meditation on the story here. Dave suggests that the woman anointing Jesus is offering him a deep kind of assurance, the unbending mercy of God for the long struggle ahead of him (and them).
Our conversation turns toward discipleship–an intentional practice of openness, courage and mercy–and how we experience assurance and peace in the midst of life's stormy twists and turns. How might we open our hearts to God's abundance and peace? How might we encourage one another to find that same peace? Can we do that for one another? Perhaps our calling is to anoint one another–in conversation, ritual and ministry–with the reassuring blessing of God's love.
Often, within the church, we think of faith that banishes doubt or makes doubt unnecessary; and we think of confidence that cleanses us of restlessness and disease. But isn't it more honest to say that we live with assurance AND doubt; and we live with peace/shalom AND restlessness; and we live with faith AND curiosity. What does this kind of discipleship look like? How do we nurture in our own lives, and in our communities and ministries and churches?
I need peace in my heart
When the world around me
Is tearing itself apart
I need peace
Assurance
Endurance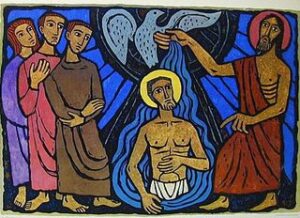 BEARING OUR TRUTHS TOGETHER: MATTHEW 3
Matthew's community is re-imagining the kinds of worship and practice that sustain community in seasons of distress. Religious life isn't a transaction ("do this, get that"), but life of communal transformation. We are changed–and encouraged–as we lean into lovingkindness, watchfulness, mercy and service together.
In our Koinonia conversations these next two weeks, we'll begin to share our spiritual journeys with our circles. Those who choose will take all the time they need to tell us about the paths taken, the friends who've guided us, and the moments of change, disruption and transformation. This story-telling practice is a building block in our project–as we nurture relationships of compassion, empathy and support.
Consider sharing your story with us. We'll have time for one or two in each session. You might want to consider jotting some notes ahead of time. Here are some things to consider:
1. Which

communities (of faith

or recovery or action) nurtured your faith practice and inspired you to choose a spiritual practice? Maybe you can think of 2 or 3.
2. Were there

particular people

(teachers, mentors, neighbors, artists) who played a special role in shaping your spiritual journey, or shaking you up, or encouraging your soul? Maybe you can think of 2 or 3.
3. Are there

particular experiences

or moments you recall as especially significant–experiences that provoked soul-searching, or turned beliefs upside down, or made luminous the path before you?
4. Are there particular "forks in the road" at which you made

a conscious choice to "follow"

in the Christian path, or to associate with the Christian community? What was going on at the time?
Let these questions guide you. They are not intended to be homework, or some kind of script. We're interested in YOU–and the influences, moments and epiphanies that shape you as a person of spirit and faith.
BECOMING CHURCH: CURIOSITY AND CONFESSION
In worship last week (10/10), Dave talked about "confession" as a shared practice of witness and with-ness. We "confess" our faith as we come together in respectful, loving community–to listen with love and speak our many truths.
As we gather to speak and listen, plan to bring your own curiosity to the circle. Are you hearing a story that makes your curious? Is there something about that story you'd like to explore? Is there something that connects to your own experience?
We're not invading one another's space, or one another's stories. But we are connecting, as siblings in faith, as sisters and brothers in Christ. And your curious and respectful spirit will add to both the story-telling and the discernment of community that comes from our experiences.
October 3 to 8 (Following Worship 10/3)
A DIFFERENT KIND OF TEMPLE: MATTHEW 26
Matthew's community is re-imagining the kinds of worship and practice that sustain community in seasons of distress. Religious life isn't a transaction ("do this, get that"), but life of communal transformation. We are changed–and encouraged–as we lean into lovingkindness, watchfulness, mercy and service together.
In Bellini's "Agony" (left), we see Jesus praying for discernment and wisdom as his friends rest (or sleep) behind him. Like so many of us, Jesus is deeply in touch with his own fears, his suffering and his struggle for authenticity and courage in a difficult time.
In our Koinonia conversations, we'll reflect on our many experiences in the 'gardens' of turmoil. And we'll begin to explore practices and commitments that offer resilience, support and courage to one another–in building a temple of faith for us all.
You might want to listen to Helen Wright's "Watch and Pray"–and then reflect on these pieces of art:
Week of March 7 to 11 (Following Worship 3/7)
ANCIENT HYMN, FOLLOWERS OF JESUS
Sing the anointed Jesus,
Who had the very shape of God
But did not count it windfall
To be God's equal,
But emptied himself,
Taking shape of slave:
Becoming of human likeness
And found in human guise,
He humbled himself—
Obedient to point of death:
Yes, of the cross's death.
Therefore God has raised him high,
Conferred on him the name
That's higher than every name,
So at the name of Jesus
Every knee must bend:
Heavenly and earthly and infernal all,
And every tongue must loudly own
The Lord is Jesus Christ
To the glory of God the All-Loving.
(Fragment in Philippians 2)
These two pieces of sacred art invite new reflection, deep reflection on the ancient hymn. What might it mean for us that Jesus "empties himself, taking shape of slave…"? Who is this teacher, this Lord, and where are we to find him now? What does humility mean in Jesus, or obedience for that matter?
And then, his rising? Or better yet, his "uprising"?
In the 13th century fresco, Jesus' resurrection is hardly a dainty "lift off"–as if he simply ascends to some better place, some less conflicted and complicated place. Instead, Jesus "uprising" involves him in lifting Adam and Eve (and all humankind) out of the chaos of warfare, torture and slavery–into newness of life, freedom from oppression and abundant community and communion.

The Jesus whose body cradles the slave ship is the same Jesus who will rise up, who will lift the human community up, who will trample the instruments of torture and violence.
What does that mean to us? As we look to Holy Week now, as we anticipate renewing our baptismal commitments–to God, to Jesus, and (importantly) to one another, how does our own baptismal vow join us to Jesus' self-emptying practice, his humility-in-service, AND his bold, brave confrontation with injustice and despair?
Week of February 7 to 10 (Following Worship 2/7)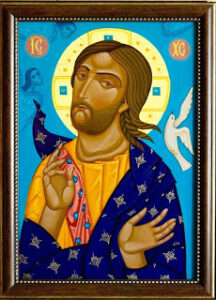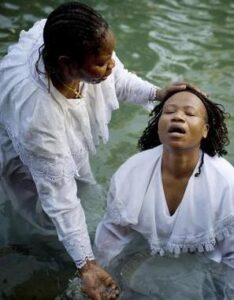 EXILE, RETURN AND Covenant
We've been talking about 2020/2021 as a season of great disruption, an "exile" of sorts. And we've been wondering if our own exile–like those in the ancient world–creates space for spiritual renewal and discernment, even a "raw, ragged openness."
In the biblical collection, the exiled people are invited home in due time, but it's not the same home. The path forward is transformed by their experience, and they are meant to discern and create that path with God.
Writing on the biblical literature of exile and return, Walter Brueggemann notes that the new way home was shaped and inspired by Israel's ancient covenant. It was that covenant–rooted in God's love and faithfulness, committed to justice and mercy–that would

reveal the community's path

and fuel their many energies for the difficult challenge ahead. Their spiritual work involved remembering the covenant, renewing it in their hearts and liturgies, and dedicating their shared energies to its fulfillment.
MATTHEW'S GOSPEL AND the COVENANT WAY
In worship these last two weeks, we've read two texts from the Gospel of Matthew. That text was assembled, collected and written in Antioch, after the Roman pillaging of Jerusalem and burning of the temple in 70 ce. God's people fled for other places, fearing for the survival of their culture and teachings. And in Antioch, they wrestled with which way to turn, where to focus energies, and how to rebuild their life together.
We read both passages (Matthew 25:31-46 and Matthew 5:38-48) in this context then. What is Jesus saying about the covenant that binds and animates the church? What is Jesus teaching about the paths and practices that lead a people through destruction (or exile) and into new patterns of faithfulness? What kind of

beloved community

does Matthew 25 imagine? What kind of daily practice, what kind of community practice does Matthew 5 inspire? How does that practice bear witness to

a spiritually revitalized

promise?
Notice that Jesus isn't making this up out of thin air. He's deeply rooted in Jewish tradition and Hebrew practice. Walter Brueggemann points, for example, to a pair of "triads" that define and animate Israel's faith and ethic. These appear again and again in the poetry of Israel's prophets. In the first, the covenant itself is articulated around mercy, justice and worship.

In these Israel knows God, communes with God and returns to God.

Around the first triad, Israel's return from exile takes shape. The new life God intends for the people will flesh out the new implications of mercy, justice and worship for a people in disarray, a people disrupted in every way by history and crisis. First the people remember; then they move forward.
COVENANT, PARTNERSHIP AND DISCERNMENT
In the second triad, the covenant is extended the

widows, orphans and immigrants

. It's a very particular triad; and the covenant includes them in every way. This is in no way optional, but follows from the very nature and "yearning" of this particular God. This God, Israel's God, is especially committed, particularly engaged with victims of violence and war (widows), the vulnerable young (orphans), and refugees seeking asylum and protection (immigrants).
To worship this God, and to covenant with this God, is necessarily to join in covenant and partnership with these community members and friends. As prophets like Jeremiah and Isaiah begin to imagine Israel's return, the new arrangements of that new life, they invoke both triads and invite fresh imagination and heartfelt devotion. In a very deliberate way, Jesus does the same in the Gospel of Matthew–for another community in exile, in another generation, in another place.
Into this we are baptized: into a covenant practice that shapes discernment; into a particular community that includes widows, orphans and immigrants; into a "raw, ragged openness" that entertains new visions and possibilities.
I'd like to imagine a festive 'baptismal celebration' on Holy Saturday–the day just before Easter. Maybe we find a sweet riverside for this celebration (my favorite)…or maybe we just do it with a big bowl of water in the Peace Garden at church.
What if Lent became a season of discernment and prayer, through which we prepared for

a renewal of baptismal energies

, a rebirth of the covenant spirit of faith? Would this prepare us, somehow, for the new moment ahead, for new patterns as we emerge from our own season of disruption and exile? What would that look like?
Week of January 24 to 28 (Following Worship 1/24)
THIS BAPTISMAL PATH, 2021
We're imagining baptism not simply as a personal choice, or a private moment of connection with God's Spirit. We're imagining baptism as Jesus and his movement might have experienced it: as a joyous joining to the community animated by Jesus' teachings, Jesus' commitments and Jesus' resurrecting spirit.
"For Christ is our peace; in his body he makes all peoples one and breaks down the many

dividing walls

, that is, the

hostilities

between us." (Ephesians 2)
In Dave's homily today, he said: "To be baptized into this movement is to initiated, immersed, in the

wonder and promise of God's 'extraordinary unity

.'" William Stringfellow put this 'initiation' in its biblical context: "Racism is the power with which Jesus Christ was confronted and which, at great and sufficient cost, he overcame. In other words, the issue here is not equality among human beings, but unity among human beings."
What might that mean–for you personally, and for the church collectively? What does 'extraordinary unity' look like

in a human life

, or in a human community? Dave said today that this kind of unity doesn't mean uniformity, not at all–but a kind of commitment to communion, a practice that delights in our diversity and makes gracious space for difference. Even struggles with it. Struggles to bring communion into our experiences of difference and separation.
FALL 2020: "Raw, Ragged Openness"
FALL 2020: "Raw, Ragged Openness"