Sunday Worship and Spiritual Life
SUMMER OPPORTUNITIES & FALL'S PROMISE
We're busy this Spring working on plans to re-open the church building to all kinds of activity (and Sunday Worship) this September! Watch this space as plans come into focus, and schedules are set. We're spending lots of time working out safe practices, planning for lively worship experiences, and reflecting on the past year's lessons, opportunities and wisdom. We are not the same church we were in early 2020–and we look forward to leaning into the future with courage and grace!
Over the Summer, we'll worship some online and some outdoors. It's our great joy to gather for outdoor worship five times between Memorial Day and Labor Day. And we hope you'll make a point of joining us–on the green lawn, at Church Hill, just down hill from the church's two parking lots in Durham. We're easy to find! In June, we worship at 10 am. In July and August, we worship at 9 am. (Back to 10 in September!)
Our outdoor services are planned for:

JUNE 20, JULY 4, JULY 18, AUGUST 1 and SEPTEMBER 5.
When we're online, you're always welcome to join us: using a Zoom link (below) or finding us on
FACEBOOK LIVE
(to the right).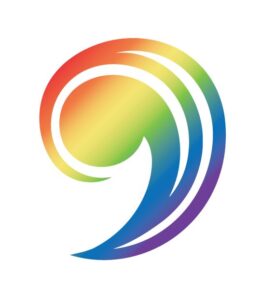 The Community Church is an Open & Affirming Congregation of the United Church of Christ. We're on the move, in the streets, working through the arts and hard work to bless the planet and bring justice to the nation.
Wherever you are on life's journey, whatever you're going through, you're welcome and cherished among us! While we're being cautious and safe this fall, we continue to host online services and small groups. And we continue to work for justice and healing in our communities.
We hope you'll find a link that works for you, and join us for gospel-good-news and a beloved community of spirit.
Sunday Worship: November 22, 2020
Sunday Worship: September 26, 2020
Thinking about the frustrations of 2020, and wanting to celebrate God's faithfulness in the midst of it all, we reached out to the Rev. Angela Bowman, a gifted minister and choreographer in the Metropolitan New York area.
Angie offered to choreograph a piece for our congregation–including choir members, young people, dancers and others–using brilliantly colored flags. Over the summer, entirely on Zoom, she worked with us to coach, inspire and minister to our hunger for praise and grateful expression.
We gathered for outdoor worship, then, on September 13. And this is what happened:
Together, in creative ministry. Together, in dance and movement. Together, in resistance and mission. Together, we make life beautiful.
Of course, gathering for worship, in our brightly lit and wonderfully welcoming sanctuary, is the heart of our practice. As a United Church of Christ, we bring many voices and many perspectives to worship, yet we weave of these a common garment of hope and faith. Our songs are bold and joyful. Our communion is open-hearted and aching for justice. Our prayers seek God's wisdom, light and grace.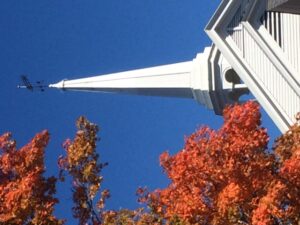 We're not sure–to be honest–when we'll return to Sunday services in our beloved sanctuary. We do know the church continues to serve and pray and speak out in other ways. Most likely, worship will be online for a while yet. We hope our friends will watch this space–or simply give us a call to see what our plans are!
Our theme for 2021 is "This Extravagant Unity: Our Way Home." You can read the guide Pastor Dave's written for the fall here. Each Sunday's service explores the challenges, opportunities, heartbreaks and wonders of life in exile. You're welcome to follow along, to join us online or afterwards in the videos posted here.
If you're new to New Hampshire, or just new to the church, let us know and we'll add you to the weekly e-newsletters that offer information and invitation to the congregation's many activities!