Holy Week marks the journey of Jesus and his community of changemakers…as they bring their project of peace to Jerusalem and invite the city to wholeness, justice and new communion.
For the church, Holy Week suggests a shared experience of lovingkindness, prayer and discernment. We celebrate God's vision of inclusion and justice on

PALM SUNDAY

. We recommit to hands-on service and partnership on

MAUNDY THURSDAY

. And we bear witness to God's passion, and Jesus' suffering among us on

GOOD FRIDAY

.
This pligrimage leads us, together, to the riverside on

HOLY SATURDAY

–where we remember our baptismal commitments and rejoice together in the love which death cannot deny.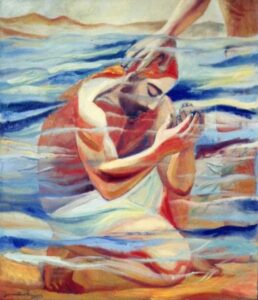 And then, with a gathering of old and young, gay and straight, bashful and bold–we gather on

EASTER SUNDAY

to praise the God whose love rises to claim us and excite us and move us forward in faith and determination!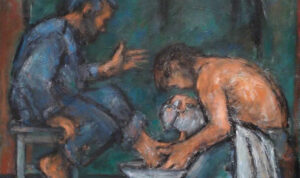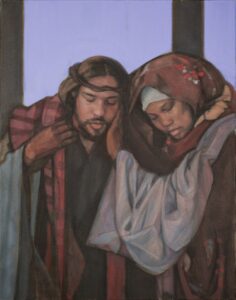 10:00 am PALM SUNDAY IN THE SANCTUARY:
HOSANNAS FOR THE PEACE-MAKER
Our first Palm Sunday service begins in the Peace Garden, with a 9:45 am gathering of palms and hosannas! We are a community of faith and purpose, children of God from all continents and all walks of life, bearing the gospel of hope together. Join us as we sing, process and enter the church with palms of joy and hearts of courage.
12:00 pm PALM SUNDAY AT THE TABLE:
HOSANNAS FOR THE PEACE-MAKER
Our experimental service at noon revolves around a band of Seacoast artists, UNH musicians and creatives…leading us into the mystery and resounding spirit of God's love together. Join us in the Chapel for this interactive celebration as the Holy Week journey continues.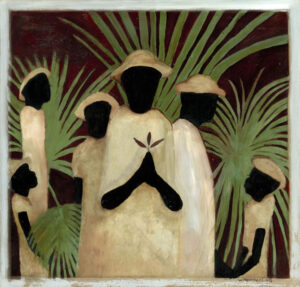 5:30 pm THE PRACTICE OF MINDFUL WALKING:
LABYRINTH AS SPIRITUAL PATH
For 90 minutes in the chapel, the Labyrinth welcomes one and all, members and seekers, for an experience of spirit and prayerfulness. Walk in the spirit of meditation and mindfulness, surrounded by friends in faith and seekers too. We'll enjoy the space, the ancient practice; and we'll prepare in stillness for the Holy Week journey ahead. All are welcome…for 10 minutes…or for a full 90 minutes of sitting, walking and praying!
Maundy Thursday / April 6
7:00 pm MAUNDY THURSDAY IN THE PARLOR:
A SERVICE OF COMMUNION & FOOTWASHING
On that last night, in a darkening room, Jesus shares his deepest faith and hope with friends. In the simple supper of bread and wine, he recalls his ancestors and their faithful courage. And he reminds his friends of the hardship to come, and the mercy that goes with them. Join us as we remember that moment–and Jesus' stunning decision to wash their feet. Right there at the table! Whether you choose to participate in the old practice or not, you can keep watch with us, recalling Jesus' example and leaning into the discipleship path.
4:00 pm IN THE STEPS AND SPIRIT OF PEACE:
A GOOD FRIDAY VIGIL AGAINST VIOLENCE
4 – 5 pm: 72 Pease Boulevard, Newington, NH
Join us on Good Friday for a Vigil Against Assault Weapons and Violence in American's Schools and Streets. We're choosing to protest in front of Sig Sauer in Newington–because the company is a major weapon manufacturer, based in NH, and manufactures guns. In 2016, a shooter used a Sig Sauer MCX Rifle in an Orlando nightclub, killing 50 and wounding another 53 from the LGBTQ+ community.
In the weeks after similarly horrific shootings in Buffalo, NY, and Uvalde, TX, the Community Church chose to shine a light on makers of weapons in our own state. "There's a lot of weariness around this, a lot of anger and a lot of despair even, that nothing's changing," says Pastor Dave Grishaw-Jones. Dave adds that in the past, the church has held candlelight vigils after mass shootings. However, he says, the time has come for churches and religious partners to be more demonstrative.
"I think about my kids other kids at church," Dave says. "I want them to know I'm not sitting still."
Our vigil begins at 4, ends at 5 and includes Good Friday prayers and silence.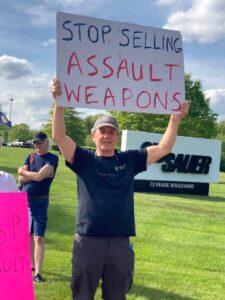 7:00 pm SERVICE OF LAMENTATION AT THE CROSS:
PRAYERS AND REFLECTION IN THE SANCTUARY
Join us for a quiet hour, a heartfelt hour, of prayer, readings and lamentation–as we remember the final hours of Jesus' loving life. We'll gather in the sanctuary, in a small circle of support and solidarity–holding in our hearts the pain of loss, the grief of violence and the expansive commitment of Jesus to nonvilence, compassion and buman community. All are welcome!
2:00 pm
COMMUNITY CELEBRATION:
RENEWING BAPTISMAL COMMITMENTS
On Saturday, this lovely community of sisters, brothers and siblings — committed to the way of the palms, and the way of the table, and the way of the cross —

gathers by the riverside

at Jackson's Landing in Durham.
There, with a sprinkling of salty river water, we celebrate our 'raw, ragged, open' faith, and renew our commitments to the path of faith and the lovingkindness of Jesus. Some will step into the river. Others will choose a simpler 'sprinkling.' Others will watch and cheer.
Email Pastor Dave if you're interested in being baptized for the first time that afternoon, or simply renewing your vows!
"

Christ is risen!

Risen indeed! Alleluia!"
Join a multigenerational community of friends at our first Easter service, as we celebrate the Good News of Resurrection and New Life together. As we delight in the Spirit's many gifts, and in our gathering together, w
e are blessed by the joyful leadership of our Chancel Choir, with David Ervin at the helm, and Catherine York wonderful as always on the organ!
AN EXPERIMENTAL PRACTICE OF PROGRESSIVE FAITH
Our Noontime Gathering is fueled by a band of Seacoast musicians, UNH students and others–an experimental setting for Christian celebration, communion and prayer.
Join us as we sing, dance, circle round–and celebrate the good news of resurrection and holy peace in a diverse gathering of God's people